In the world of digital advertising, Google Ads stands as a titan, connecting businesses with their target audiences through a pay-per-click model. However, recent revelations such as Google's admission to quietly adjusting ad prices to meet targets in September 2023, underscore the the lack of trust already there between advertisers and the search giant. in our experience, we have found increasing evidence about the possibility of preferential treatment in the form of sweetheart deals between Google Ads and major retailers, including industry giants like Amazon and eBay.co.uk. Specifically, these concerns have been raised within the realm of Google Shopping.
Evidence of Special Treatment
Before we get into our own anecdotal evidence, let's journey back to 2021. One notable example is the "Jedi Blue" deal, allegedly struck between Google and Facebook, which aimed to limit competition in advertising. Documents obtained during a Texas antitrust lawsuit shed light on this reported "sweetheart" deal. In this arrangement, Google would provide Facebook with advantageous terms for advertising bids, while Facebook, in turn, would support Google's Open Bidding platform. So this is not their first rodeo.
Healthcare & Medicines example
Beyond this, there are anecdotal accounts from us here at Sumoblue which highlighted contradictory disapprovals within Google Merchant Center. For instance, some of our clients had products disapproved for over-the-counter medicines like 'Deep Freeze pain relief cold gel', however retailers such as Amazon and eBay are the only retailers present for these products in Google.ie.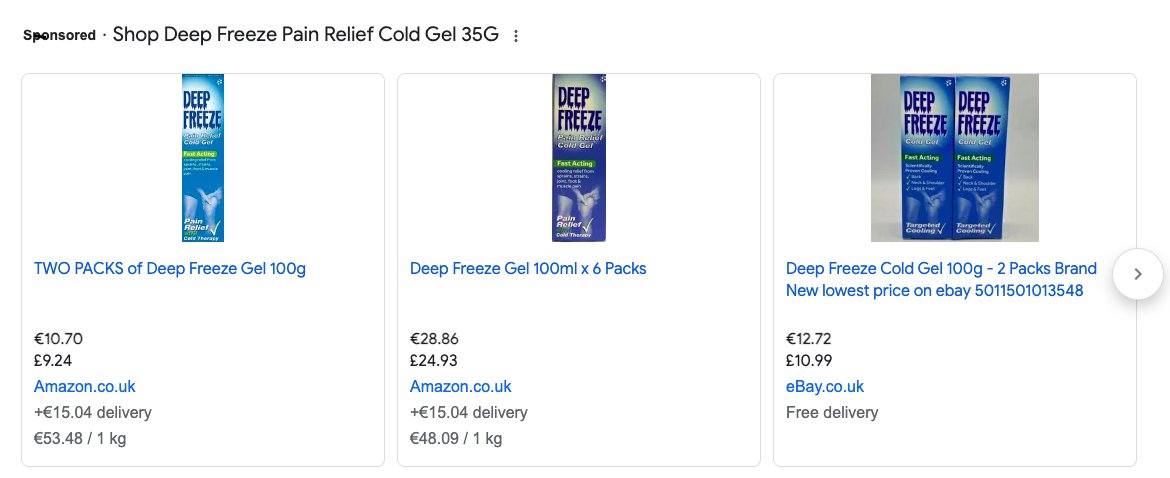 When we reach out to Google Ads support on this issue, we received radio silence on both initial contact and follow up. We even reached out to Ginny Marvin on Twitter and Linkedin, but again, no feedback this time.
How are Irish online retailers meant to compete?

Google Merchant Center is not allowing any Irish clients to sell this harmless Deep Freeze, Pain Relief Cold Gel 35G. but for Amazon and https://t.co/wRgzezImCc, it's a-okay.

This is one of many disapprovals for one of my clients… pic.twitter.com/81jZ5rHyMx

— Stephen Frazer – Google Ads Consultant (@artfrazer) June 28, 2023
2, Personalized advertising – Sexual interest example
A similar example we have with a client who sells 'bastard tools', disapproved under 'Sexual Interests'. But if one Googles it, you'll see some retailers in the SERPs utilising Google Shopping.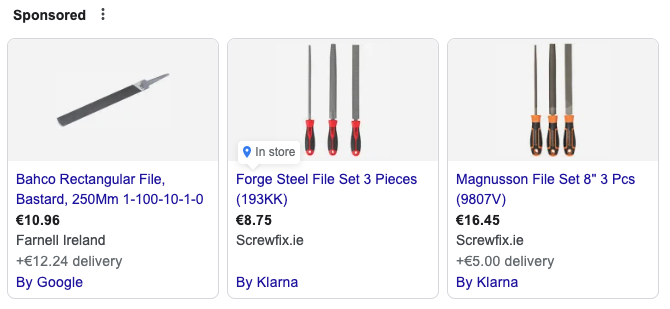 Benefits for Google and Retailers
These sweetheart deals, if indeed in existence, raise questions about why Google would do this? For Google, it would be more prudent to favour larger budgets and established retailers with higher Life Time Value (LTV) and revenue in the long run. For major retailers, they're more likely to stick around advertising on Google if competition is low, and ROAS is high.
Impact on Competition and Smaller Businesses
While these deals might favor major retailers, they potentially stifle competition within the digital advertising space. Smaller businesses, often operating on fine margins, may find it difficult to compete. Such disparities in access to advertising channels can have devastating consequences for these smaller players, potentially undermining their ability to thrive in a highly competitive digital landscape.
Industry Opinions
Efforts to seek comments from Google Ads officials and support yielded limited results, further emphasising the need for open dialogue and transparency in the industry.
Conclusion
As we raise the topic of potential sweetheart deals, it's crucial to put forward the question to the broader community: Are such arrangements legal? We must also encourage advertisers to explore alternative advertising channels, such as the Microsoft Bing network and others.
In a rapidly evolving digital advertising landscape, it's imperative that the industry addresses concerns surrounding transparency, competition, and fairness. The consequences of sweetheart deals, if they exist, could reverberate far beyond individual businesses, impacting the very fabric of digital commerce.