There's no such thing as bad publicity.
A phrase famously associated with Phineas T. Barnum, a 19th American showman and circus owner.
Oscar WIlde also coined the phrase;
The only thing worse than being talked about is not being talked about.
So what does this all mean for Corona? The beer that is, not the virus.
The immediate knee-jerk would be to assume that this is catastrophic, and you'd be well within your right in thinking that, I mean, look at these feckin' early tremors;
The maker of Corona (beer) has already lost sales of R4.3 billion to the coronavirus | @BISouthAfrica https://t.co/WEHVgCpppr pic.twitter.com/lIHQbI7D1e

— News24 (@News24) February 27, 2020
Just so you're aware, the above is a loss of R4.3 billion, that R stands for Renminbi, the Chinese currency. Which is just over 52 million euros, YIKES!
But the share price, oh the share price,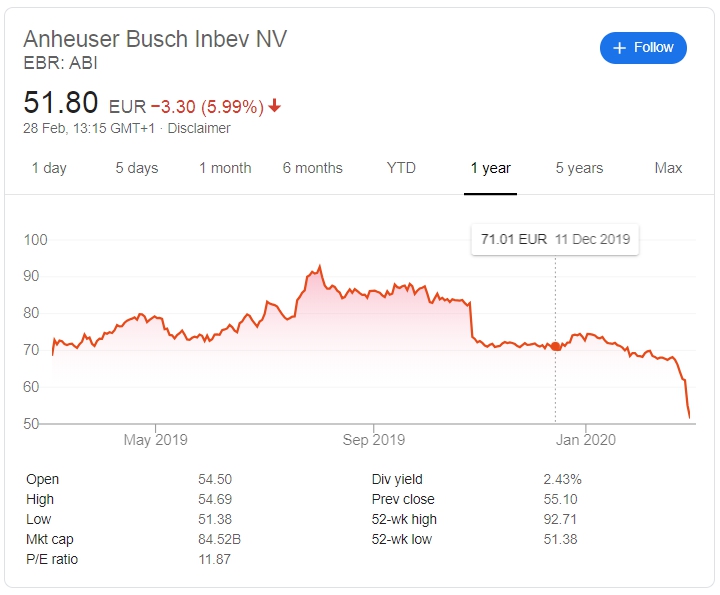 That's a fall of 92.71 EUR in July 2019, to 51.80 EUR (and falling) today Friday 28th February 2019, who knows that it will be when it bottoms out.
The Flip Side, or potential Opportunity
Right now, we're in the eye of the storm for Anheuser Busch Inbev NV, the Belgian based company that owns Corona beer. They are in a really tricky spot.
What do they do?
I hope it goes without saying that everyone reading this understand that the beer has absolutely nothing to do with the COVID-19 Coronavirus. Most people (according to Twitter anyway) get it, but in the midst of panic, people are not rational.
Do they ride it out, and expect people to see sense when the virus is contained.
Let's look at the facts!
Searches for the word 'Corona' have increased from 1,184,650 to 6,365,290 from December to January, that's a 437% increase!!!

Now I know what you're thinking, "Stephen, that's just people abbreviating the virus". Yes, I agree, people are being lazy in their searches. They're Googling the term 'corona' cos' they can't be arsed Googling the whole thing, seeing the beer, and making the mental shortcut that the two are related. "I'm Not taking any fucklng chances!" We've all heard the type.
Then there is people like me, where all this Corona talk is making me thirsty. Below you'll see increases for 'Corona extra', 'Corona can', and 'corona ligera'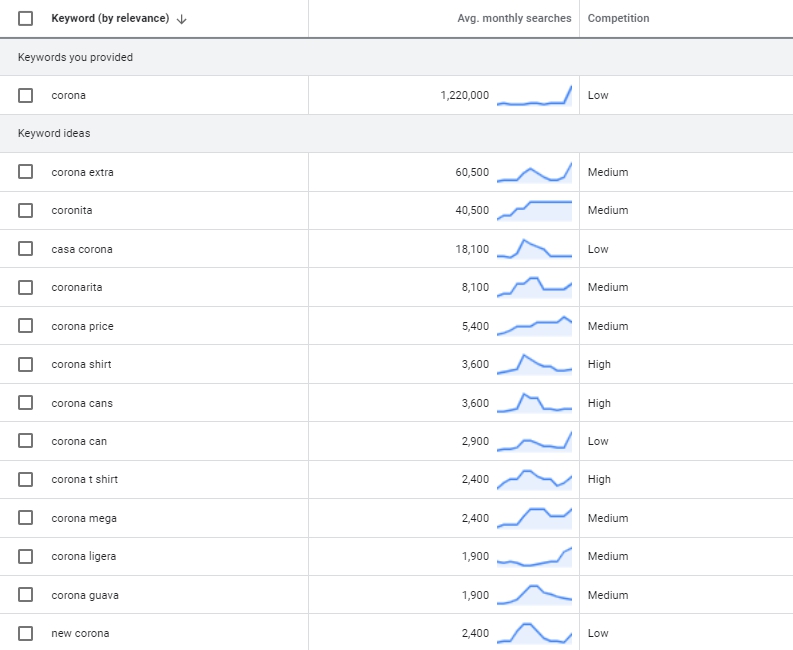 So what's my point?
All of this could make for a very successful marketing campaign.
A chance for us to face palm at the stupidity of man, with a good portion of us blaming the virus on a beer.
I say could very deliberalty here, Anheuser Busch Inbev NV must measure the time of such a campaign against the senstitivty of the issue. On one hand, people are dying, which is awful. On the other hand, this company is being blamed on something that has nothing to do with them, which will lead to job losses on innocent hard working people.
Either way, Anheuser Busch Inbev NV can't do nothing.
So I You Leave You (Or Them) With Some Famous Campaigns For Inspiration