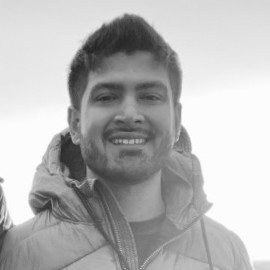 We're delighted to announce the arrival of Varun Sharma, a Masters graduate from The National College of Ireland who comes with a wealth of experience in digital sales.
Varun's previous role was with the BBC as digital sales account manager, where he managed clients such as Microsoft, Volvo, Apple, Boeing, Trivago and Airtel. Varun's experience of almost 5 years in digital will bring SUMOBLUE's offering to a new level.
Varun joins SUMOBLUE as digital marketing and sales executive, where he will help clients reach their business objectives through blended search (Search Engine Optimisation & Pay-Per-Click) and through new and exciting offerings from SUMOBLUE.
A bit more about Varun
Varun is a big time gamer, and you might bump into him online playing Call of Duty & Wolfenstein. He loves to cook, travel, and has one older sibling living in Canada. Above all else, he's just a super nice guy.
Burning Questions
Favourite Quote:


"Nobody exists on purpose, nobody belongs anywhere, everybody's gonna die. Come watch TV." – Morty Smith from "Rick and Morty".

3 People You Would Like To Have Dinner With?:


"Rick Sanchez, Jack Dorsey & Paul Chowdhary"

If You Had A Time Machine, What Period Would You Like To Visit?


I guess, the future 2077, The year is based on a game, cyberpunk 2077- a new age Tokyo type of city where everything is haphazard which makes people more creative.
A BIG SUMO WELCOME TO YOU, VARUN!